Dr Amitabha Das

Upper Gastrointestinal & Weight Loss Surgeon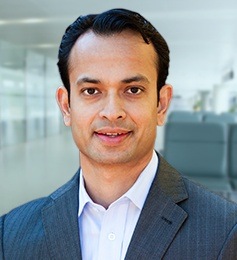 Dr Amitabha Das
Dr Amitabha Das is a highly experienced upper gastrointestinal and weight loss surgeon that has been performing complex laparoscopic ("keyhole") surgery since 2007.
Dr Das routinely performs some of the most technically demanding gastrointestinal surgical cases an upper-GI surgeon will ever face in their career, such as major cancer resections of the stomach, liver and pancreas. He has deep foundational surgical skills developed performing these more technically demanding areas of laparoscopic surgery, which he applies to his bariatric surgical work, such as the gastric sleeve and the gastric bypass.
Dr Das holds both public and private hospital appointments and can cater to all patients. He performs routine surgery as some of South-West Sydney's highest volume public hospitals.
Dr Das also teaches other surgeons advanced techniques in upper-GI surgery.
Education & Qualifications
Fellowship of the Royal Australasian college of Surgeons in General Surgery (2007).
Foundation Member of the Australian and New Zealand Gastric and Oesophageal Surgery Association (ANZGOSA).
Foundation Member of the Australia and New Zealand Hepato-Biliary Association (ANZHPBA).
Accreditation with the Gastroenterological Society of Australia (GESA) in Colonoscopy and Gastroscopy (Upper-GI endoscopy).
Member of General Surgeons Australia.
Member of Metabolic Surgery and Obesity Society (ANZMOSS).
Master of Surgery, University of Sydney (2010).
Bachelor of Medicine and Bachelor of Surgery (MBBS), University of Sydney (1999).
Dux of School, Fort Street High School Sydney (1993).
Surgical Training Fellowships
Upper-GI and Hepatobiliary Surgery Fellow, Southampton General Hospital, UK, 2009.
Upper-GI and Hepatobiliary Surgery Fellow, Sydney South West Health Service, 2007.
Upper-GI and Hepatobiliary Surgery Fellow, Westmead Public Hospital, 2006.
Hospital Appointments
Liverpool Public Hospital.
Bankstown Public Hospital.
St George Private Hospital.
Sydney South West Private Hospital.
Campbelltown Private Hospital.
Nepean Private Hospital.
Teaching Appointments
Conjoint associate lecturer, University of New south Wales appointed Jan 2008. Duties include delivery of formal lectures to year 5 and 6 medical students as well as small group tutorials.
Award from Canberra clinical school in 2003 for outstanding contribution to Medical student teaching, University of Sydney.
Publications
Das A: Book Chapter "Medical problems of Athletes" Oxford Handbook of Sports Medicine, Oxford Univ Press, 1998 ,ISBN: 0192628909.
Das A, Chang D, Biankin A, Merrett N "Pancreatitis following human papillomavirus vaccination" Medical Journal of Australia. Aug 2008.
Das A, Wilson R, Biankin AV, and Merrett ND "Surgical therapy for gastrointestinal stromal tumours of the upper gastrointestinal tract" Journal of gastrointestinal surgery : official journal of the Society for Surgery of the Alimentary Tract 13(7):1220-5, Jul 2009 .
Lefter LP, Chang DK, Das A, Biankin AV, Merrett ND "Ruptured pseudoaneurysm of the splenic artery complicating central pancreatectomy" HPB 2011 13 (supp 3) P120 238.
Humphris JL, Chang DK, Johns AL, Scarlett CJ, Pajic M, Jones MD, Colvin EK, Nagrial A, Chin VT, Chantrill LA, Samra JS, Gill AJ, Kench JG, Merrett ND, Das A, Musgrove EA, Sutherland RL, Biankin AV "The prognostic and predictive value of serum CA19.9 in pancreatic cancer"Ann Oncol. 2012 Jul;23(7):1713-1722 (IF=2.27).
Cosman PH, Chang D, Biankin AV, Das A, Merrett ND "Tumour seeding along needle biopsy tract in pancreatic cancer" ANZ J.Surg 2012: 82 (Suppl.1) HP66P; 101.
Merrett ND, Das A, Chang D, Biankin AV "Feasibility, safety and efficacy of laparoscopic resection of gastric GIST" ANZ J.Surg 2012: 82 (Suppl.1) HP40P; 94.
Pérez-Mancera, Pedro A., Alistair G. Rust, Louise van der Weyden, Glen Kristiansen, Allen Li, Aaron L. Sarver, Kevin AT Silverstein et al. "The deubiquitinase USP9X suppresses pancreatic ductal adenocarcinoma." Nature 486, no. 7402 (2012): 266-270.
Lehane CW, Khalessi A, Majid AJ, Nabi H, Das A. "Jejunogastric intussusception: a rare complication of a gastrojejunostomy" ANZ J Surg. 2015 Jan;85(1-2):89-90.
Large retroperitoneal isolated fibrous cyst in absence of preceding trauma or acute pancreatitis. Ahn J, Chandrasegaram MD, Alsaleh K, Woodham BL, Teo A, Das A, Merrett ND, Apostolou C. BMC Surg. (2015) .
Improving psychosocial outcomes for caregivers of people with poor prognosis gastrointestinal cancers: a randomized controlled trial (Family Connect) J.Shaw, J.Young, P.Butow, T.Badgery-Parker, I.Durcinoska, J.Harrison, P.Davidson, D.Martin, C.Sandroussi, M.Hollands, D.Joseph, A.Das, V.Lam, E.Johnston, M.Solomon. Supportive Care in Cancer June 2015.
FDG-PET nodal staging does not correlate with histopathological nodal stage for oesophageal cancers. M. Devadas, A. Mittal, M. Lin, P. Cosman, W. Ziazaris, R. Wilson, A. Das, N. Merrett. International Jounral of Surgery June 2015.
Genomic analyses identify molecular subtypes of pancreatic cancer. Bailey P, Chang DK,, Nones K et al Nature 2016 Mar 3;531(7592):47-52. doi: 10.1038/nature16965. Epub 2016 Feb 24. (collaborator).
Applying of " the white test" in laparoscopic hepatectomy to identify bile leakage. Gandy, R. Das, A, Ahmed S. HPB 2016 , Volume 18 , e117.
Identification of unique neoantigen qualities in long-term survivors of pancreatic cancer. Balachandran VP, Łuksza M, Zhao JN et al Nature. 2017 Nov 23;551(7681):512-516. doi: 10.1038/nature24462. Epub 2017 Nov 8 (collaborator).
Modified Longmire procedure: a novel approach to bile duct injury repair. ANZ J Surg. 2018 Oct 22 Kotecha K, Kaushal D, Low W, Townend P, Das A, Apostolou C, Merrett N.
Migration route of Fasciola into the liver ; JGH Open, 2018:Nov, Lockart I, Das A, Merrett N, Levy M.
Scientific Presentations
Laparoscopic Excision of ExtraGastrointestinal Stromal Tumour of the Pancreas 2018 ANZGOSA meeting New Zealand.
Propionibacterium avidum hepatic abscess in a young immunocompetent boy: a rare case; Haque, Izhar-ul , Yabo, Takako , Ng, John , Das, Amitabha 2018 AHZHPBA meeting, New Zealand.
Microwave ablation of liver lesions, Poster presentation ANZHBA congress meeting 2012.
Apostolou C, Haveman JW, Chang DK, Biankin AV, Merrett ND "Pancreatic Visceral aneurysms : Report of 3 cases and literature review" Presented: Asia Pacific ANZHPB combined 3rd biennial congress: Melbourne sept 2011.
International Surgical Week Sept 2009, oral presentation on "Surgical management of upper GI tumours" .
Joint Royal College of Thailand and Royal Australasian college of Surgeons meeting Pattaya July 2007, oral presentaion on "New developments in Pancreatic Cancer" .
Sydney Upper GI society meeting Nov 2006, gave an invited oral presentation on "Current indications of the role of surgery in Peptic ulcer disease" .
Royal Australasian college of surgeons Annual surgical meeting 2005. poster presentation: "SMA syndrome: laparoscopic management" .
Australian Capital Territory Registrars paper day 2003. Oral presentation "Non alcoholic Steatohepatitis" .
New South Wales Registrars paper day, 2002. Oral presentation NASH In the laparoscopic cholecystectomy Group".
Professional Activities
Robotic Liver Surgery Course, Pittsburgh, Pennsylvania, USA, 2013.
Definitive surgical trauma care course, RACS, Melbourne, 2004.
Anatomy Dissection course, University of Sydney, 2000.